Impressions: Apen is affluent. This feeling is not particularly apparent on the slopes as Skiing is essentially an activity of the wealthy anyway so the ski crowd is fairly indistinguishable from any other mountain full of people strapped to slippery boards and bundled in water-proofed layers and anything from one to thirty thousand under layers. It is more apparent in the airport full of private jets, complimentary on-mountain water and cider stops, on-mountain dining at the top of almost every ski lift on every one of the mountains, gargantuan ski-lodges with heated, outdoor pools and sidewalks, et cetera. It apparently has the most expensive real estate prices on earth. There was a very small feeling of the area generally trying to keep the non-uber-affluent-such-as-us away with pricy lift tickets and, well, pretty much everything, and some pretenses such as having no greens (easy runs) at all on Aspen mountain. However, we were able to do this at about as cheap as you can by staying as far down the valley as we could, using ski passes that had already paid for themselves at other resorts, carpooling in to the free lots and taking busses to each of the resorts. The terrain was excellent, and we did manage to achieve my wish of skiing an aspen, tree run at Aspen. Buttermilk has the most friendly terrain for beginners. Snowmass was huge with a lot of terrain generally and all levels, Aspen Highlands had the most challenging terrain (and rewarding for me as I try to keep working on improving as a skier), and Aspen mountain has the novelty of a gondola all the way to the top of the mountain (most only go to the top of the first ridge). We were there about 9 days after the last snow, so there was no fresh powder, but for that the slopes were not particularly icy, nor the moguls hard. There was even some randomly soft snow patches in the trees. I was borrowing my friends skis to see about which ones I may look for in the future, so I could also have a more positive impression of the snow quality from the better quality equipment I was usin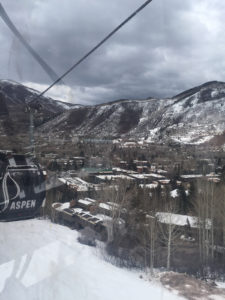 g. Grooming was excellent and it was neat to be able to find some small patches that still had grooming (untouched by other skiers) even
in the afternoons. Temperatures were generally warm/spring-style skiing, but we did get an inch of powder at the end of the second day.
Details: We stayed in Glenwood Springs at the Affordable Inns for three nights. The first and last day did not feature skiing but arrival, sleep, and pre-departure breakfast. Ski day one: Buttermilk followed by Snowmass. Dinner at the Lost Cajun. Iron Mountain Hot Springs in Glenwood Springs. Ski day two: Aspen Highlands and Aspen. Dinner at Grind. Dessert at the Pullman. Evening in watching a movie, though Glenwood Hot Springs would be a very good alternative as well. This allowed us to see most of each ski resort, eat at some favorite restaurants, and get a very good idea of things to focus on during a return trip.
Specific Trip:
As the traveling of the season went on, we lost a person stepwise up to this trip with only three intrepid and determined friends still on the pursuit of as many mountains on the Mountain Collective pass as we could manage. That said, Aspen is one of the most cost-prohibitive places to go if you don't have a pass that gives you free days there, so it was not a huge surprise that other friends were hard to convince to make the 8+ hours of driving worth it.
Nevertheless, the two Flagstaff members of the crew had a four day weekend, which made the driving much more relaxed. So relaxed in fact, that we were late getting out of town at the late hour of 11:00am. No worries, we had all day so we left a snow storm behind to go search for snow in one of the world's premier ski resorts. The drive itself was filled with music and the beautiful views that are afforded by the most spectacular and beautiful geographic areas in the entire world. The mountains transition into the painted desert, the otherworldly sandstone formations around Kayenta, the high scrublands of Utah that overlook a gargantuan series of national parks and monuments such as Glen Canyon,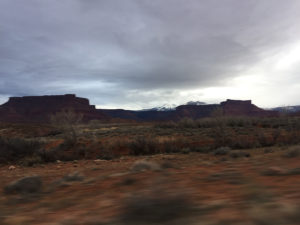 Bear's Ears, Canyonlands, and Arches. These are visible only in the distance if you are attentive, yet they loom large in my mind as there are so many astounding things and wonderful memories I have had in the area.
When we arrived in Moab, we stopped to switch drivers and get some coffee to maintain alertness for the second half of the drive. I pulled into the coffee shop the wrong way since they had large rocks protecting their patio seating, but never fear, as I learned from a host-cousin's brother/our tour guide who may have been high at the time, you can drive on sidewalks to great effect despite the horror of your passengers. We made it to the parking lot without hitting anything, particularly pedestrians and went in for the standard pit stop.
Not standard.
The shop was three-quarters filled with home-spun clothing that was draped with sheets and closed to the customers, and the barista was a mid-elderly gentleman with a leather biking vest and spectacular handlebar mustache. This is all well and good. It makes for a more interesting viewscape and a lot of wondering what is really under the sheets and why the whole section is closed off from the people who would potentially want to buy said mysteries. The most unusual thing however was that the barista had OPINIONS about how coffee should be consumed.
I came out of the restroom and approached the counter as he was explaining to my friend about how he couldn't in good judgement make a single-shot americano since the cradle was really for a double shot and it would be a waste to only use the one. Thus, he would make a half-caf, and then water it down with the americano. I piped up an said he could put the other, single shot into my drink as that is also all I wanted. His response was that he would do the same thing for me since the cradle was made for a double shot. If you understood what any of this means (I only vaguely do), the result was that both my friend and I ended up with about four espresso shots of coffee between the two of us at 5:00pm. Not only that, the flavor of the coffee that the barista was proud of since they roast it in house was of the variety: sip-zing-HELLO-COFFEE!
Four shots of it.
The rest of the drive was amused at the antics of the barista and in a word: alert.
In our determined attempt to avoid Grand Junction, in which nothing actually connects, we stopped in Fruita for dinner. Fruita is a small town in that we were following map directions and assumed the blocks would be along the lines of quarter to half mile blocks only to find they are in fact 200 feet. Four or five right turns later, we made it to Hot Tomatoes, a wonderful pizzeria with pizza by the slice, salads, and strombolis by the slice. We went there specifically for the salad as my lunch salad had inspired my friend only to have the pesto pizza and Stromboli promptly chase all thoughts of leafy greens out of mind. It was definitely the right decision as the pizza and particularly the Stromboli dough was amazing.
A few sleepless hours later, we arrived in Glenwood Springs. We had chosen the most budget fo options we could find here as it would be 1) roughly $1,000 cheaper per night than staying in Aspen would be and 2) we were hitting the point in which ski tripping severely impacts the budget. As we went to check in, there was a group of people arguing outside next to the hotel. This apparently evolved into a full-blown fist fight as we checked in because we were waiting at the desk when a friend?-assistant?-daughter?-unspecified relation of the clerk came in to report the fight. It would have been a lot more comforting to hear the clerk tell unspecified-relation to call the police if there had not been the look and tone of "again" on the clerks face as she said that. We locked the doors and finally fell into the sleep that the gradual wearing off of caffeine would allow us, aided by the exhaustion of doing nothing but sit in a car.
The third of our intrepid band showed up just past midnight to a calm parking lot and two fairly alert friends (we did sleep, but waking up was not an issue).
Skiing: it actually happened. We got out and drove up to the Buttermilk parking lot as it turned out to be free, and we were vaguely planning to try out all four of the resorts in the Aspen-Snowmass area. Buttermilk was fun, and a good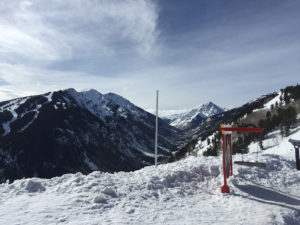 confidence builder. It has a lot of green beginner and easy blue intermediate terrain. The blacks are mostly of the steep-but-groomed variety. As my friend let me borrow a pair of his skis to try out as I search for a pair made more recently since the last ice age when skiing became popular, I had a lot of fun. I really appreciate having my own pair of skis, but they are to the point that shops will no longer tune them, and I don't maintenance them. Thus, although my friend said the sol-7 skis might feel like I can't catch an edge, they were amazing and edgy to me. As it turns out, this gives me more confidence to go fast. So, we zoomed down the blacks two or three extra times before heading back to move over to Snowmass for the afternoon.
We found some more free parking by the rec-center in Snowmass village and caught one of the very frequent shuttles to the slopes. The mission for this area was to ski as many lifts as we could and at least one double black for me to really push my limits on the skis I was trying. We did pretty well at this and made it onto all sorts of neat runs like Campground, which surprisingly skis into a summer campground. The blue groomers were great, and while we shied away from the giant-drop-in double black, we did manage to find one that went through a shoot and then into a neat gully. We did miss on trying to find a run that you could ski though an aspen grove, but the day was nice and the snow was surprisingly soft for the resort not having new powder in the last nine days. There was an event in Buttermilk's super-pipe to watch, and the temperatures and blue skies made for a very pleasant day of skiing.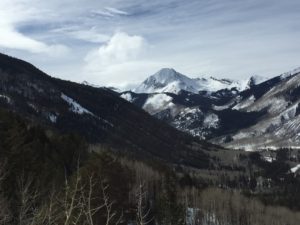 The resort is big enough to make it feel uncrowded, and there is a wide variety of things to ski on. Thus it worked well for us to keep entertained and provide things for each person in the group to enjoy. It is rather strange since the resort is on the slopes of the first bench of Snowmass mountain. Thus, the "top" actually flattens out and although it looks like you would want to ascend to the ridge, you would actually have a lot of flat/windblown terrain at the very top. The double blacks are centered around a bowl and gully on the side of the slope. BTW: double blacks feature largely in my mind when skiing as they are still the runs that I feel like I have not mastered and often either have to challenge myself of genuinely fall over on.
A full day of sunny skiing left us tired and ready for the delicious food that Glenwood springs has to offer. We made it to the town with only a little bit of ogling mount Sopris, which looms very impressively over the valley and opted for a tasty Cajun restaurant that I had been to when I threw my identity at a stranger here. The food was delicious from the Cajun style sausages to the gumbo to the pasta. Fun fact about food: powdered sugar does not roll off ski pants the way water does. Instead it gets absorbed into it and leaves you covered in unidentifiable white markings. I found out because I coughed on my beignet right as I went to take a bite and made a mini-explosion of the delicious powder.
Dinner went on to hot springs at the Iron Mountain Hot Spring resort, which is rather new and amazing. There is a larger, cooler pool for families and a bunch of jacuzzi-sized pools for those looking to relax away from the kids. Each pool has its own shape and temperature, and there are different features such as views of the Colorado river, river rocks on the bottom of the pool, and benches at various heights to sit on. We sampled a number of the pools and tried to avoid the frigid night air as much as possible as we dashed around the maze that is the resort.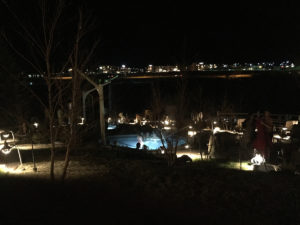 There is a special moment of panic to be had when the path you were sure would take you to a warm oasis in the winter dead ends into a desert of rocks ten feet short of the destination. Regardless, conversation was as warm and tranquil of the pools, and I wandered in my mind and comments from looking over the nighttime river to the stars that were visible above.
Day two featured a slightly earlier start, and we headed back to the Buttermilk parking lot to take advantage of the free RFTA (pronounced Raptor apparently from the logos) transportation system to Aspen Highlands. This mountain features an amazingly huge run down the ridge of the mountain above the village, and is the iconic shot out of a Warren miller film. The day started well if slightly icy since the storm that was looming had not yet given much of the results we were looking for. The double black we tried was neat despite this and ended with a little uphill skate skiing to get back out to the main runs. We then took the giant run that had enough area to have both half of it roped off for a ski team practice and about forty yards of room to wander about on our side, which kind of blew my mind.
Continuing up the mountain as the whole resort seems to in a hallway shape that moves up and away from that run, we tried a few of the more relaxed runs and then went off to the challenges of the deep temerity chair. My friend says this is the stuff of legends, and I believe it. The runs are crazy steep and very, very long. You spend a lot of time working from mogul to mogul or between trees and go and go and go and then you cross a three-foot wide catwalk that is only halfway down. The snow was in pretty good condition though, and the skis I was trying that day made me feel more in control than I ever have on difficult terrain. Thus, 1) that was great terrain and 2) I'm sold on the new skis.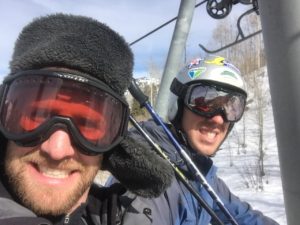 Two runs on this put us into the danger-zone for being late to meet up with the other person in our party, so we set out to get down the entire mountain as quickly as possible together. This, of course meant that we lost sight of each other almost immediately. I stopped to wait because I had passed my friend while he stopped to wait having not seen me. Then I barreled down the slope after a skier in my friend's blue jacket with silver helmet only to discover it wasn't him. From there, I set a breakneck pace down the mountain as fast as I could, so much so that my scarf came unraveled and I had to hold it in my teeth to keep it from blowing upslope as I barreled down the hill.
By some miracle, we ended up all arriving at exactly the same place 100 meters upslope of the lodges at the same time. It was time for Aspen mountain.
There is a certain amount of prestige that Aspen has always carried for me. The wedding of my aunts leaves vague memories of the resort when it is not winter, and the mountains around are iconic of the skier's dream. There have always been rumors about how expensive it is to live there (possibly even the most expensive real estate on earth), that they would not allow snowboarders for a very long time, that they don't even have any beginner routes. I was excited to see what the hype was about and perhaps predictably a little let down by the reality. It is a really neat resort, and there is a lot of beautiful terrain, but much of our afternoon seemed to funnel down into one large ravine with everyone else on the mountain. Aspen highlands was honestly the better of the two in my mind.
Still, any skiing is pretty fantastic, and the mountain was fun to wander around. We even finally managed to get onto a run through an aspen grove at Aspen resort, which had been my one goal. This was great, and it was so pretty and interesting to ski in the trees since the slope is a lot lighter than the normal tree slope. The runs were mostly long since we did to the base and back, and it started to snow. By the time we left, we had about two inches of fresh powder which made the turning just a little easier. It was a great way to end the skiing for the day; although, we did watch the weather forecast and accumulations intensely in the hopes of a powder day that would make the 50% off lift tickets from our pass totally worth the extra day of skiing.
Alas, only a few inches made the journey homeward at a leisurely pace the more attractive option, and we left with a wonderful weekend of adventures, delicious food, good companionship, and epic skiing to our names.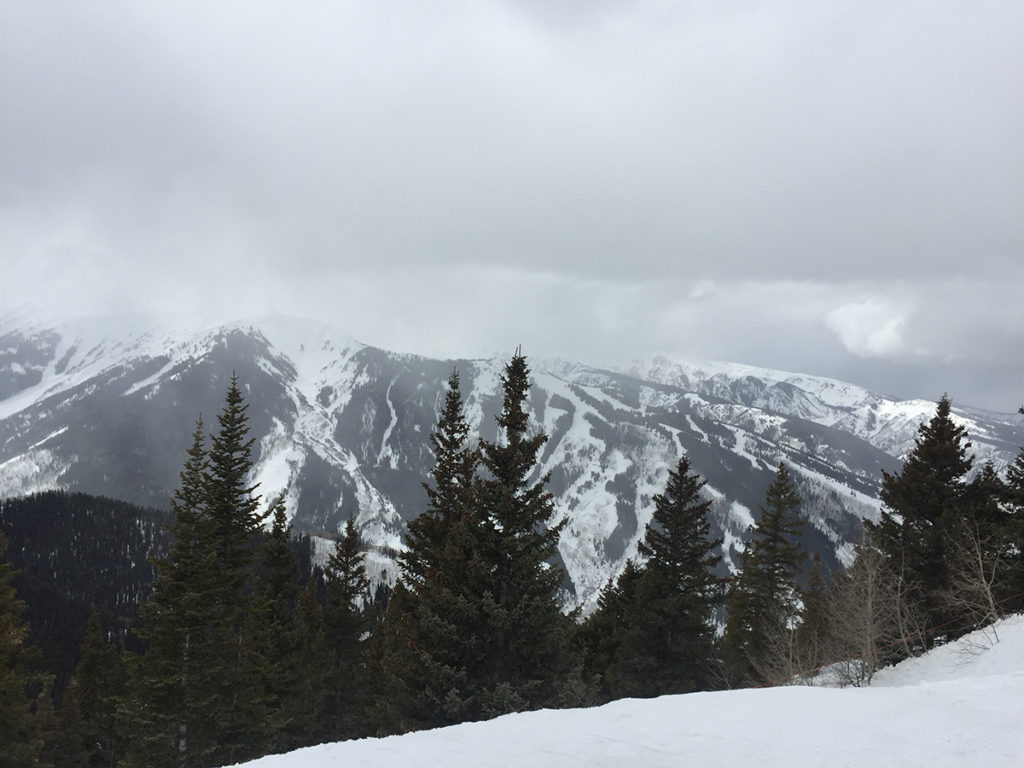 Logisitcs:
Lift tickets:
For this trip, I recommend having a ski pass that includes Aspen/Snowmass as the daily lift tickets are $150. We were using the Mountain Collective Pass which gives two days at each of a number of resorts and can be purchased pre-season for around $400 and during the season around $500. The passes are valid for all four resorts and you can go to multiple resorts in a single day.
Lodging:
We stayed at the cheapest hotel we could find two weeks in advance; although, if you don't want the additional attractions of fist fights in the parking lot and domestic disputes in the hallway at midnight, it may be worth spending an extra ten or twenty dollars a night to stay at a nicer location. Glenwood Springs had hotels around $80 dollars (ours was $72 partially due to President's Day weekend driving prices up a bit) and has the added benefits of the hot springs, a lot of delicious restaurants, an easier drive in (all of which we would have ended up in the town for anyway), and it is the most reasonable for the money. Carbondale has a general-type hotel price around $120 and prices increase as you approach the town of Aspen and Snowmass Village in which a weekend's lodging can easily reach the minimum of $4000. (The 50 minute drive to Glenwood Springs allows you to make approximately $400/hour in savings.)
Parking:
There is free parking at Buttermilk just beyond the airport and frequent (10-30 minutes), free (YES!), convenient (no more than a three minute walk to a ski lift) busses to all of the resorts. There is also free parking at the public park/recreation center below Snowmass Village or paid parking ($8-30/day) at the base of most of the slopes. There are busses that run every thirty minutes maximum from as far away as Glenwood Springs and cost $7 one way for the full distance. The busses have spots to put your skis on the outside and friendly drivers. Nothing, from slopes to busses was particularly crowded despite it being one of the busiest ski weekends of the year.
Hot Springs:
Iron Mountain Hot Springs costs $20 for an adult and is open until 10:00pm. It has various small tubs at temperatures between 98 and 109 degrees Fahrenheit. There is a larger pool for families and all of these overlook the Colorado River. Glenwood Springs Hot Springs costs more like $18 for a half day and has two very large pools that everyone can wander around in with some water-jets and water-slides. It is more of the hot springs style hotel with the springs instead of the hotel pool and a lot of temporary visitors.
Food:
All in Glenwood Springs' down town on the two blocks immediately adjacent to the bridge over the river.
Breakfast: every day was at Sacred Grounds Coffee which has breakfast sandwiches, pastries, and a few breakfast items such as biscuits and gravy, waffles, and breakfast burritos. Prices are about $2 for the pastries and $5-8 for everything else including a little coffee with your cream and sugar, which is my default. They will give you a celebrity's name instead of your own or a number, so try not to forget it like I did the last day (Also, why did I get Julia Roberts twice?)
We skipped lunch in favor of a granola bar and more skiing.
Dinner: The Lost Cajun has predictably, Cajun style food. Cups of Gumbo or other delicious soups are about $8.50. Main entrees are more in the range of $14-18, and sides are 3-8 depending on how far the food is shipped with seafood being the most expensive at more than 500 miles in any direction from the sea. Beignets are delicious funnel cakes with powdered sugar (Cautions: price $5 for three, powdered sugar is hard to eat with a cough, waterproofed ski clothes are not powdered-sugar-proof).
Grind has hamburgers. ¼ pound is $7.50-9.00 and 1/3rd pound are $10-12 with a variety of beef, bison, chicken, and falafel options and various toppings. The $7 wings are very tasty as are most of the French-fry variety sides.
The Pullman is a little pricier but has a rotating menu so the cuisine (rather than just food) is new and exciting most of the time. We ended up the bar because we did not want to wait the hour for having not made a reservation and were just getting dessert. Get it. Also rotating, we got the whole desert menu at $8 per desert and were treated to a chocolate-peanut butter pie with peanut sauce, banana chocolate bread pudding, a butterscotch caramel pudding, and pumpkin crème brulee. Most of these were smothered in sweet cream, and well worth counting my 7 or 8,000th calories for the day (I don't actually count and have no frame of reference for doing so. This was a joke as I struggled through the last bite).